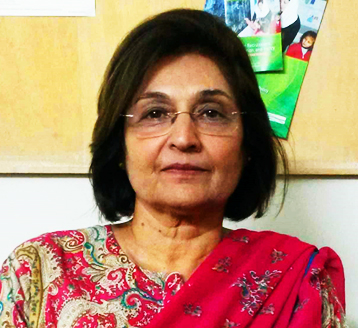 Gmail

fareehazaf@gmail.com
Dr. Fareeha Zafar is a Professor at the Graduate Institute of Development Studies (GIDS), Lahore School of Economics. She has been with the institute since 2013 when the MPhil program was initiated. Dr. Zafar has a Ph.D in Geography from the School of Oriental and African Studies, University of London and BA (honours) and MA in Geography from the University of the Punjab. She was a Fulbright Scholar at the University of California, Berkeley, USA in 1985-86.
Prior to joining GIDS, she was Director, Society for Advancement of Education (SAHE), Lahore from 1995 to 2013 one of the first non-governmental organizations to be set up in 1982. Dr. Zafar began her teaching career in 1969 at the Department of Geography, University of the Punjab and also served for five years as Director at Centre of Excellence for Women's Studies, University of the Punjab, Lahore from 1990-1995.
Dr. Zafar has several years experience of initiating and managing projects in the areas of education and gender and was worked with a number of international organizations in Pakistan such as the World Bank, Asian Development Bank, UN agencies and bilateral development agencies. She has also been on the governing boards of several organizations such as the Poverty Alleviation Fund and Lead Pakistan and been a member of the National Taskforce on Education set up in 2009. She is founder member of the Women's Action Forum set up in 1982.
Dr. Zafar's research interests lie in the area of education, gender, economic history of Pakistan and the Pakistani diaspora. She has contributed several research papers to national and international journals and is the author of Canals, colonies and class: British policy in the Punjab 1880-1940, Lahore School of Economics 2017, and editor of Finding Our Way: readings on women of Pakistan, ASR publications 1991.