Published in The Express Tribune on June 08, 2023
ISLAMABAD: The government's economic team headed by Finance Minister Ishaq Dar told Prime Minister Shehbaz Sharif on Thursday while presenting the Economic Survey 2022-23 that there is no quick fix, but the decline of the economy has been stopped and the risk of default has been averted.
He maintained his argument, however, that the rupee's real value is in the 240s against the dollar
"We have stopped the decline of the economy and have prevented Pakistan from default. Now our objective is 3.5% growth for next year," said Dar. "The baseline is core inflation, which is in the range of 16-20%. The world over the core inflation is followed and not the headline inflation," he added.
Unveiling the Economic Survey, the finance minister said that the fiscal year 2022-23 was a difficult year for the economy. There are 17 chapters in the economic survey on different sectors of the economy. The report discusses in detail sectoral, socio-economic development, agriculture, manufacturing, energy, IT, capital market, health, education and transport sectors.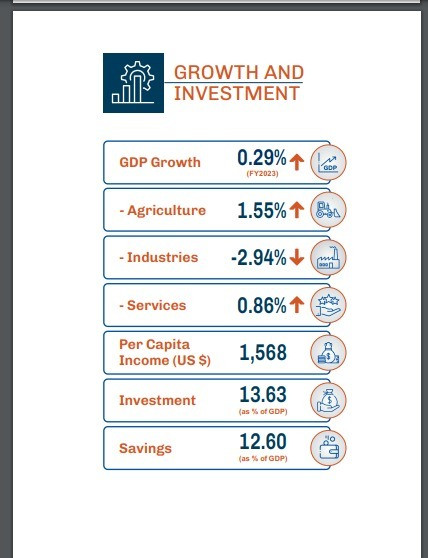 "Pakistan was the 24th largest economy in 2017, but has now dropped to the 47th position," said Finance Minister Ishaq Dar, adding that, "For the restoration of the economy, we have made a plan, our objective is to restore macroeconomic stability, we need to bring it back to what it was in 2017."
Higher international commodity prices (crude oil, edible oil, pulses etc), global supply disruptions, damages of major and minor crops due to flood, currency depreciation, administrative price adjustment and political uncertainty are major factors responsible for high inflation, said Finance Minister Ishaq Dar on Thursday.
The Pakistan Stock Exchange's (PSX) market capitalisation in 2017 was $100 billion.
"For inclusive and resilient growth, we need a resilient economy," he said.
According to the finance minister, the government is working on five Es – exports, equity, empowerment, environment and energy.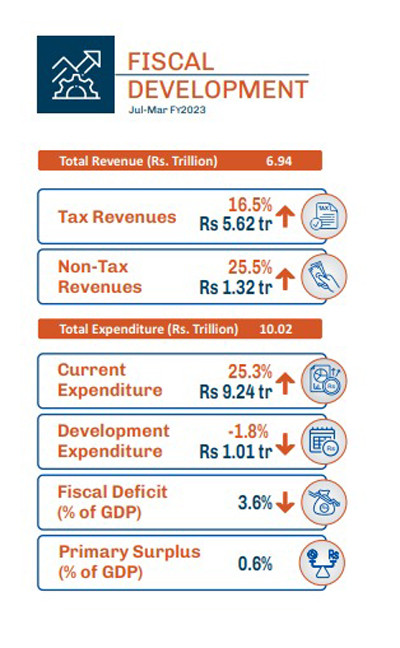 "The economic downfall has stopped," said Dar, "We are working to restore economic activity now."
Circular debt increased per annum was Rs129 billion in our previous government compared to Rs330 billion during FY2019-22, he said. The total public debt rose from Rs 25 trillion in June 2018 to Rs 49.2 trillion in June 2022, representing a significant increase of 97%.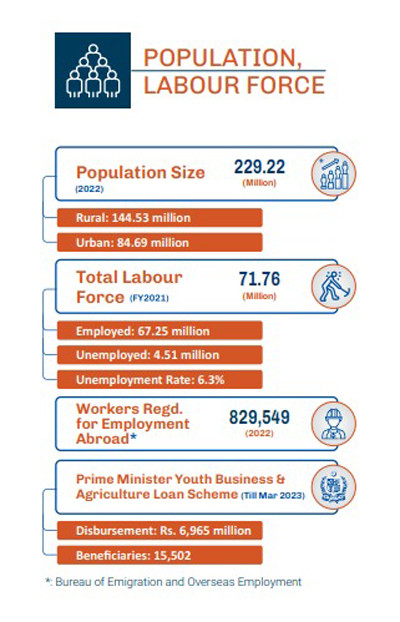 "Under the governance of the PTI (Pakistan Tehreek-e-Insaaf) party, the total debt during their tenure surged from Rs 29.9 trillion in FY2018 to Rs 59.8 trillion, marking an approximate doubling of the debt (nearly 100% increase)," lamented the finance minister. He said that the final nail in the economical coffin was when commitments were not kept after the vote of no confidence.
Discussing the previous government's performance, Dar said that fiscal deficit increased from 5.8% in FY2018 to 7.9% of GDP in FY2022, trade deficit worsened to $39.1b from $30.9b in FY2018, circular debt increased from Rs1,148b to Rs2,467b, public debt increased from 63.7% to 73.9% of GDP and total public debt increased from Rs25 trillion in June 2018 to Rs49.2 trillion in June 2022 (a 97% increase).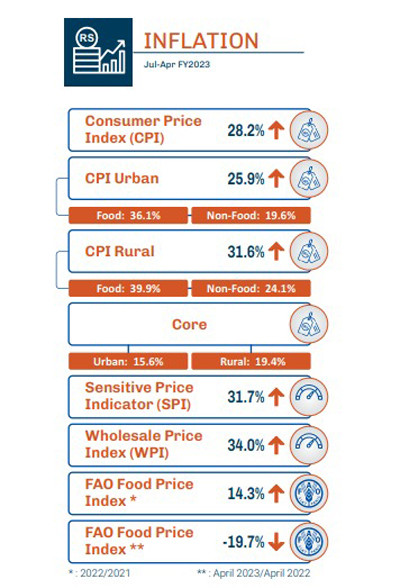 Global GDP growth has experienced a decline of over 50% since 2021, slowing down from 6.2% in 2021 to 2.8% in 2023.
The global inflation rate has seen a significant increase, rising from 4.7% in 2021 to 8.7% in 2022, and is projected to decrease to 7.0% in 2023, although it remains relatively high.
Global trade has decreased by more than five times since 2021, with its growth expected to decrease from 9.4% in 2021 to 1.7% in 2023.
The economy has been severely impacted by the devastating floods. The estimated damage amounts to $14.9 billion, with a loss of $15.2 billion to the GDP and a required investment of $16.3 billion for the rehabilitation of the damages.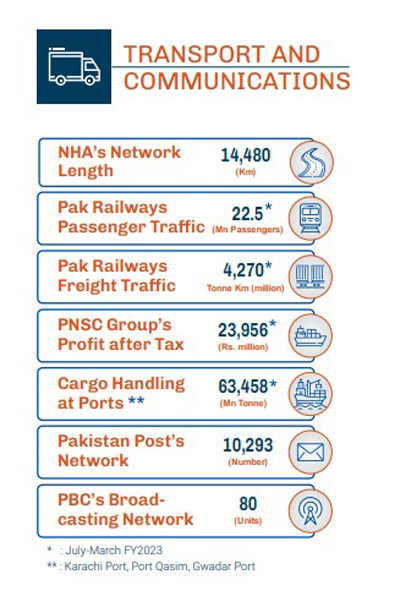 "The only IMF programme Pakistan has completed was during the Nawaz Sharif government during 2013-2016. We have paid a huge political cost to fix the economy. Our credibility has eroded. We revived the IMF to restore our credibility," said the finance minister.
As far as IMF's loan programme is concerned, the government has taken many difficult decisions to revive the programme. Untargeted subsidies have been scrapped and austerity measures are being taken.
"Our first priority is to pay off sovereign debt, then food and pharmaceutical imports," he said, adding that, "The Monetary policy has been tightened in the wake of high inflation, caused by currency devaluation."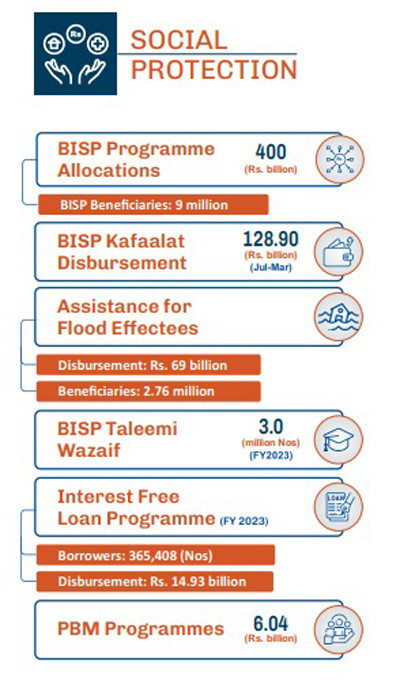 We are stuck in a vicious cycle, said Dar adding that devaluation is the mother of all economic problems. "Pundits who tell us dollar appreciation increases exports, I don't know in which world they live," he added.
Read more Pakistan to leave 21% policy rate unchanged amid high inflation: analysts
"People have lost faith (in the economy). We don't know which hidden hands are appreciating the dollar.
According to the finance minister, the Pakistan-Rupee exchange rate should be Rs244/$ as per the Real effective exchange rate (REER) matrix. "The rupee is undervalued and that needs to be addressed."
The current government has successfully repaid $6.5 billion of international commercial loans, with $1.0 billion of that amount being in the form of international Sukuk, he said.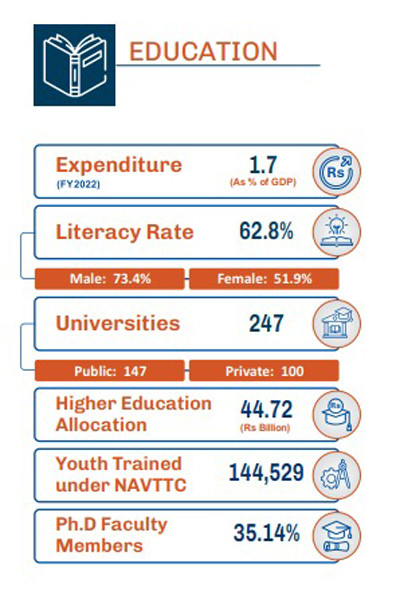 With regards to the revival of the IMF programme, Dar said, "IMF is sitting on the fence. When the situation will settle, they will lend."
However, he added that tight fiscal discipline will continue in order to avoid default on debt.
Starting from January 1, 2023, the stipend for beneficiaries of the Benazir Income Support Program (BISP) has been raised by 25%. As a result, the total amount allocated to BISP for the current fiscal year has increased from Rs 360 billion to Rs 400 billion.
The government has also floated 3-year and 1-year Sukuk Ijarah instruments to encourage people to shift from conventional to Islamic source of financing, he said.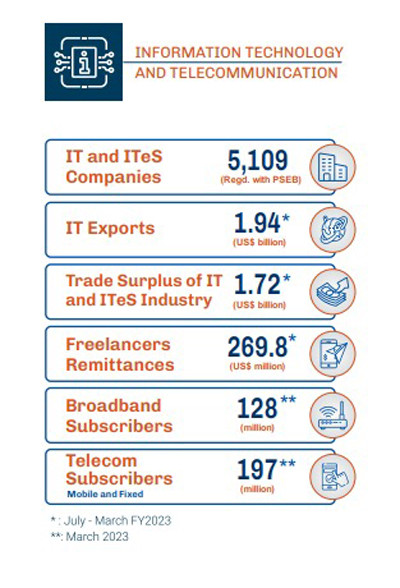 The finance minister also explained that barter trade with Iran, Afghanistan and Russia. Yemen and Sudan are on the list of priorities.
"Despite all the difficulties, external and internal, GDP growth of 0.29% is a realistic achievement and couldn't have been better," he said.
Higher international commodity prices (crude oil, edible oil, pulses etc), global supply disruptions, damages of major and minor crops due to flood, currency depreciation, administrative price adjustment and political uncertainty are major factors responsible for high inflation.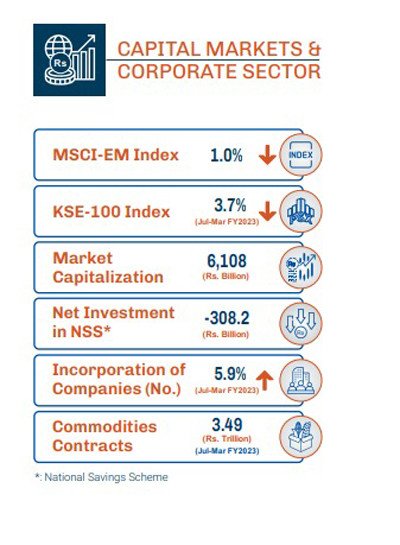 Lower imports hurt the Federal Board of Revenue's (FBR) tax collection. Exports in Jul-May FY23 reached $25.4b as compared to $28.9 billion last year, down by 12.1%. Imports in Jul-May FY23 were restricted to $51.2b against $72.3b last year, showing a decline of 29.2%.
As of March 31, FY2023, however, the FBR has successfully registered 912,392 new taxpayers during the current year, exceeding the target of 700,000 new taxpayers.
The current account deficit for the period from July to April of FY2023 has significantly reduced by 76%, reaching $3.3 billion compared to $13.7 billion in the previous year. There are still two months remaining, providing an opportunity for further improvement.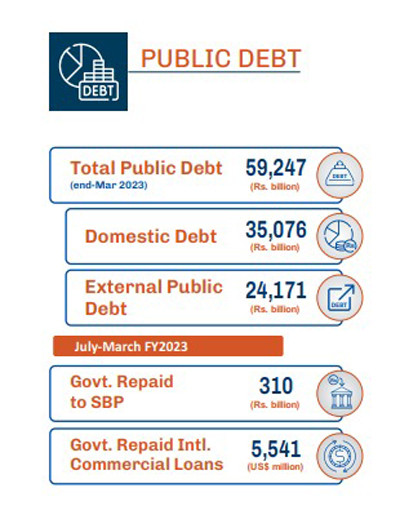 Due to various factors such as the situation in Ukraine, the impact of Covid-19, and financial instability, remittances for the period of July to April in FY2023 amounted to $22.7 billion, showing a contraction of 13.0% compared to $26.1 billion in the previous year. This decline can be attributed primarily to reduced business activity, inflationary pressures in host countries, and the relaxation of travel restrictions.
Public Sector Development Programme (PSDP) will cross Rs1.15 trillion next year. Development expenditure Rs1001 (1 trillion) crossed in PMLN government. with PSDP, economic activity booms. Provinces are now free to spend on development. GDP projection for next year will be achieved and work on SDGs will improve significantly.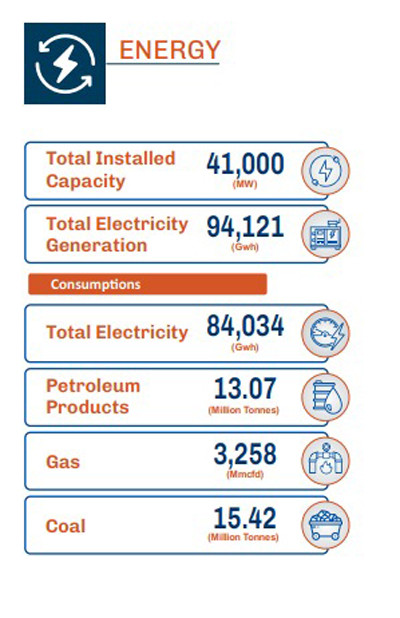 Federal Planning Minister Ahsan Iqbal said the development budget has been increased by 100%. "FY23 was a year of force majeure, when economic numbers could not be compared with targets.
The higher education budget was increased from Rs26b to Rs60b in two years, which is directly linked with our youth development," he said.
IT exports are expected to reach $4.5 billion next year from this year's $2.5 billion, for which incentives will be provided. The government is focusing on creating a holistic digital ecosystem with infrastructure and institutional frameworks for the rapid delivery of innovative digital services.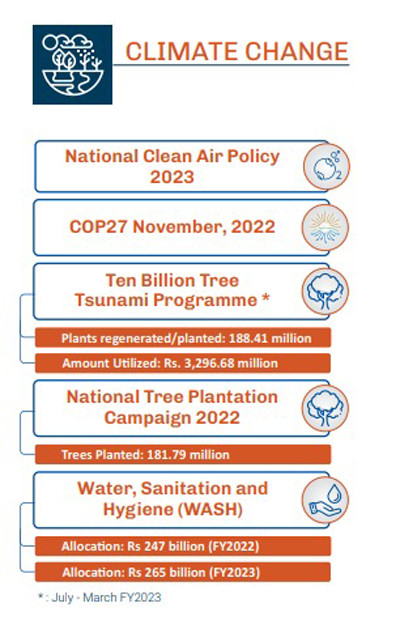 To ensure the availability of affordable energy, the government has set the target to enhance the share of green energy to 20% in 2025 and 30% in 2030. The government is stressing on energy efficiency and conservation and is estimated to save primary energy up to 10-15%.